PSU Board Members
that have signed, those who need to sign!
I have taken the time to put the full list of current Penn State Board of Trustees below. I am continually asked what is the next step in having our push to honor Joe Paterno with the field naming? Well, it's actually very simple, I need your help by flooding each member below that hasn't signed the online petition. Each members email address is included, and actions are louder than words, and we need action in the form of getting the majority to sign the petition in order to make the field naming become a part of history. I would also like to honor those Members of the Board of Trustees that have taken the FINAL step, and who have signed their name to honor Joe Paterno.
---

I think it is equally important to list under these names those Board Members who have not signed the petition to honor the late Joe Paterno. It's time to write to each one of them, their email addresses are underneath their name. I cannot do this alone, emails from all of us who have signed are needed to gather the majority of Board Members to sign in order for myself, and my team to proceed further. If we can obtain a majority of their signatures we will win when we present the petition in front of the whole group.
You have asked what you can do, this is what I need you to do. I would also urge writing to those who have signed and thank them for stepping across the famous "Blue Line" to honor Joe Paterno.
List of Current Board Members Elected by Alumni (Updated August, 2022)

Last Updated August 2022
Here is the plan, simply download the Word File below, copy and past the email contents in the file and send it to each of the Board Members below who haven't signed. I have done as much work for you as I can, I think you can handle copying content and pasting it into an email and sending it to these members, in fact I know you can. Make an Impact.
CLICK TO DOWNLOAD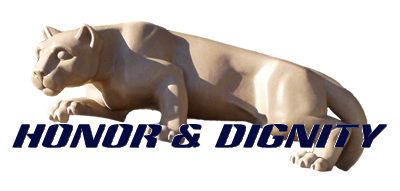 Main Menu
Top