Blake Tobias Jr.
Founder of Paterno Field
Professionally, Blake Tobias Jr., MS HA-ODL, is a health operations and innovation professional with a proven track record of success managing strategic planning, completing complex project management, and managing stakeholder collaboration within innovation, operations, and research.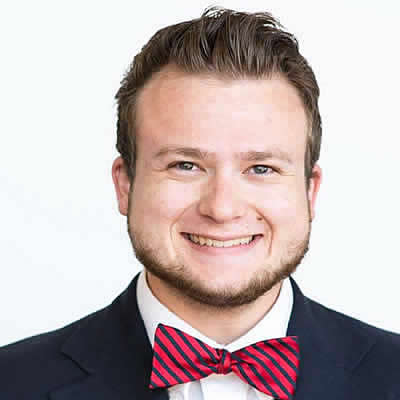 Blake holds an undergraduate degree in Biology from Albright College in Reading, Pennsylvania, as well as a Master of Science in Health Administration specializing in Organizational Development and Leadership from Saint Joseph's University. Currently studying Health Care Innovation within the Department of Medical Ethics and Health Policy in the University of Pennsylvania Perelman School of Medicine.
Blake Jr. specializes in Health Care Organizational Development and Leadership at University of Pennsylvania Health System where he presently manages Kidney, Pancreas, and Liver Transplant clinics across Lancaster, Berks County, sections of Philadelphia, and portions of New Jersey for the Penn Transplant Institute. Additionally, Blake has served in an interim leadership capacity for procedure-based gastroenterology for Penn Medicine.
Blake was formerly a member of the Reading Hospital Administrative team responsible for executive oversight of various projects and operational improvements for departments including Support Services, Oncology, Pharmacy, Laboratory, and Senior Administration. His keen eye for rapid pace business development has aided his quick advancement through the Penn Medicine system.
Beyond Health Care, Blake Jr is current Board President and Chair of the Diversity and Inclusivity Task Force for the Albright College Alumni Association Board of Directors, is Governance Chair of the Hospice and Palliative Nurses Association, as well as the Hospice and Palliative Nurses Foundation where he is the most recent past-chairmen, is Special Advisor to the National Board of Osteopathic Medical Examiners, Member of the Graduate Program Advisory Board for Saint Joseph's University Department of Health Studies, Board Director for the Development Board of the University of Pennsylvania Perelman School of Medicine, Graduate Representative on the Portrait Committee for the University of Pennsylvania, is a Board Director and Percussionist for the Ringgold Band, and is heavily involved in various community philanthropic endeavors.
Paterno Field at Beaver Stadium
Blake Tobias, Jr., what can I say about my son, from the start he supplied me with his full support, spending countless hours making phone calls, Blake called every major news outlet in the country. Imagine watching your son who was in high school venturing out and contacting CBS, NBC, ABC, CNN, ESPN, FOX, Big Ten, Comcast, plus countless online and print newspaper publications. Each day Blake would come home from school and go right to work in his room making calls scheduling television, radio, newspaper, and internet interviews. There is no doubt in my mind without the work Blake Jr put into the petition from the beginning we would never be at the point which we stand today.
He literally put Paterno Field at Beaver Stadium, and the petition behind it out to people across the country, I merely rode the wave doing the interviews which he lined up. This is the reason I have given Blake the title of Founder of the petition, he is the unsung hero behind our petition. I know Joe Paterno would have been taken back by Blake's work, and if Joe was still here with us, he would be as amazed as we all are of what a career Blake has made for himself in just a very short time. I always tell my children, "Make an impact", both Blake, and my daughter Brittany continue to do that every day!
Top